Think Tank Streetwalker Pro camera bag reviewed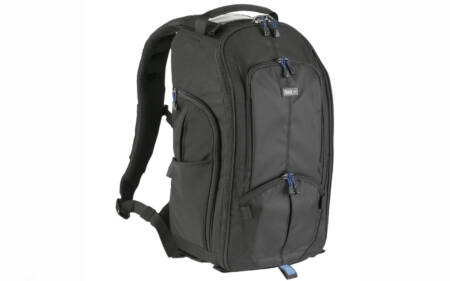 The Think Tank Streetwalker Pro is a great bag for moving huge amounts of gear about. But is it a good bag to use when you're trying to take photos?
Summary
This is a big, strong bag that can safely carry a huge amount of gear. It is much thicker/deeper than you'd expect from the photos – it is not slim by any stretch of the imagination, and it is one of the thickest photo backpacks I've ever seen. Admittedly it carries a huge amount of gear, but the space in the bag is not v. efficiently used – I found lots of dead space that I couldn't fill.
Rating: [star rating="1.5″]
Ergonomics
Ergonomically the bag is rather poor, and I found it very uncomfortable when fully loaded – the weight's just too high on your back and you can't really adjust the bag's straps to fix this.
The bag is very deep, which means that it sticks out too far from your back, which makes it awkward when walking through crowds – this is even worse with a tripod attached. The bag is surprisingly heavy – you can easily overload it too.
If you want to get your gear out of the Streetwalker, it has to be almost completely opened up – which realistically means laying it down somewhere. This was a deal breaker for me, as this is very slow and awkward.
Straps are included to allow you to strap a tripod to the back of the bag. Take care if used with a tripod though, as the bag becomes very unwieldy – the tripod is almost a foot *behind* your back – and you will be a danger to people around you.
Overall
The Think Tank Streetwalker is a good bag to use if you need to get lots of gear from Point A to Point B, but it's a rather poor bag to shoot out of. And then there's the name. Really? Seriously?
Pros: It's huge, rugged and supremely well padded – you can throw it about knowing that your gear is safe.
Cons: Awkward to carry and use, surprisingly bulky, surprising amount of unusable internal space.